1. To search for users in SchoolsBuddy, click on Reception, then Users.



2. You will then be taken to the search box where you are able to search for any string of text or email address. Any part of a name entered (first name or surname) will be searched.
In order to view the user tabs labelled 'Students', 'Parents' and 'Staff' just click the Filter icon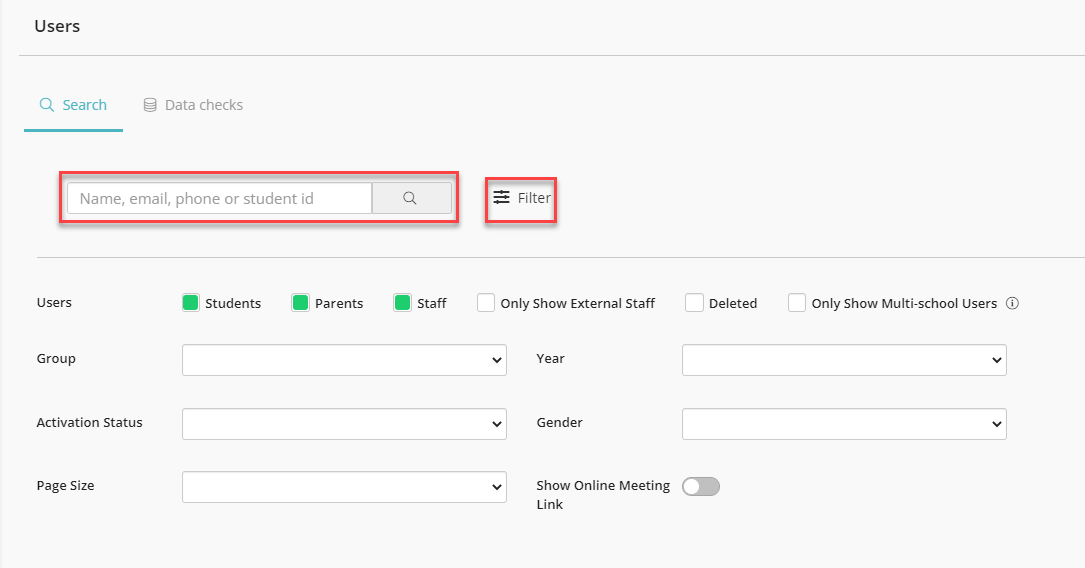 3. It is possible to de-select sections of users if, for example if you only wanted to search for staff you would need to untick 'Students' and 'Parents'. In addition there is an option to 'Only Show External Staff'.
For more information regarding the Data Checks, please read this article.
There are also additional filters available in the drop-down boxes which can be used to narrow your search, for example, Group, Activation Status, Year/Grade and Gender.
Deleted user accounts
Please note: When a user is deleted via an MIS / SIS update and then undeleted, SchoolsBuddy does not undelete that user within SchoolsBuddy and this must be a manual process.

1. To include users that have been deleted in your search, click the 'Deleted' option and any deleted users will be displayed in addition to active users. The deleted search will include users that have been flagged as deleted or parents that have deleted links to students.



2. It is possible to RESTORE users by selecting the red 'Restore' button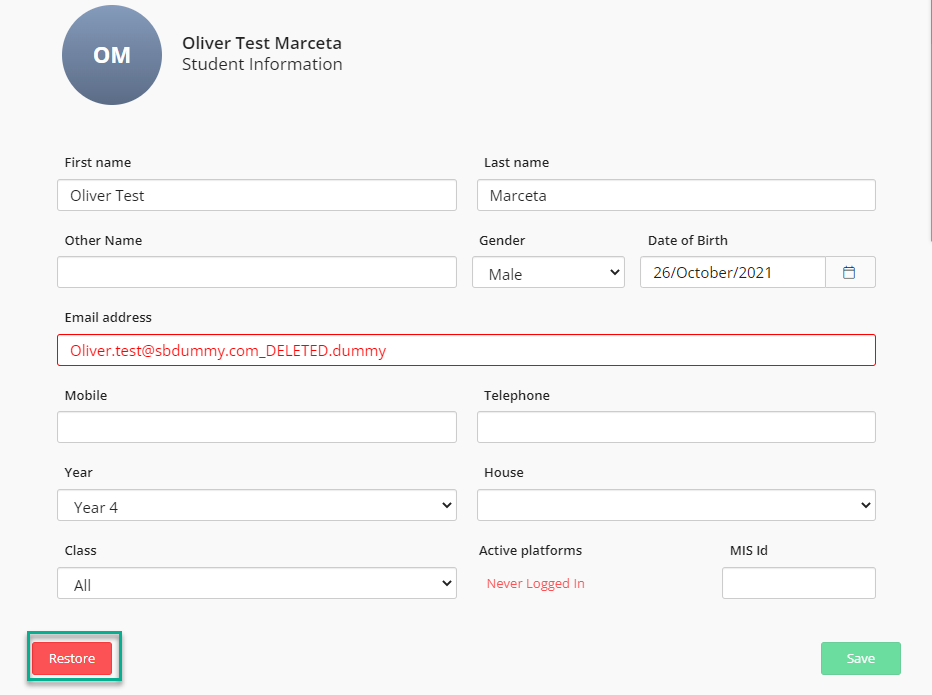 3. Next you will be asked to confirm you wish to restore the account

4. When restoring a parent account you will also need to confirm whether you wish restore any linked accounts associated with this user

Please note: If a parent shows up in the search but not in the main search without include 'Deleted' checked then they are linked to a student but those links have been deleted.
These links can be restored manually via the student record within SchoolsBuddy on the 'linked' tab - Please click here to see how.