Instant Book and Pay Events are a great option if you want to give Parents/Students the option of signing up. This sign-up option is perfect for School Trips, Breakfast Clubs, Wraparound care events, After School Clubs and Ticketed events (that are not a preference based sign up).
THIS OPTION SHOULD BE USED IF YOU ARE HAPPY FOR PARENTS TO SELF SELECT THEIR CHILDREN INTO THE EVENTS.
(Please note: you can control who can see which events they are able to book by filtering each group by Year, Grade or any other Group in the system).

This article will guide you through the process of creating an Instant Book and Pay sign up for a School Trip.
Step 1:
Select the Activities, Clubs & Bookings Admin tab (this may be labelled differently due to your School's preferences)

Select the container type, in this scenario School trips
(If your school does not have this option, the Instant Book & Pay tab will have the same functionality. If you would like this School Trips option, please contact help@schoolsbuddy.com and we will be able to set this up for you)
Step 2:
Complete the container details
Sign Up Title: e.g. School Trips 2021/22
Description: Any information that is relevant to all school trips.
Maximum Bookable events per group: Leave this as 0 as the groups will be organised by year and there may be multiple trips per year.
Activities start/end dates/times: Set the dates for when you want the activities to occur, in this case for the whole school year. You can re-use the container to add trips as the year progresses. The times are not important in this case as they can be set for each individual event later.
Responsibility for confirmation: Leave Parents only highlighted green, or switch to Students or Parents or Students only according to your School's preferences.
Sign up opens: Date when sign up opens (when parents can start booking)
Sign up closes: Date when sign up closes (e.g. if you are creating the container for the term/year, when is the last day that parents should be able to sign up for your trips?)
Show select all button: This enables the parent/student to select all activities in one go.
Use organisation block dates?: This defaults to on and will use your block dates that have been set at an organisational level. Don't use these if you want to run trips in half term for example.
Accept Voucher Payments: Only select this if childcare vouchers will be accepted for all trips. If you select this option, you will have the choice to be able to limit which group can pay by childcare vouchers (please see this article about Restricting the use of Childcare Vouchers.)
Send New Booking Alerts: If this box is checked, staff members who have this role will be notified when a new booking is made by a parent or student from any Instant Book or Parent Evening/PTC container
Terms & Conditions: You can enter any terms & conditions that apply to all trips. Trip-specific T's & C's will be entered at a later stage.
T&C's additional info (URL): If you have your school T's and C's in a PDF file, for example, you can add a link to it here.
Booking Data Form: We can create a form for you to collect any other information you require of the student at the time of booking.
When the correct details have been entered click the green save button on the lower right of the screen.

Step 3:
Once saved, the Container will be created and you will be taken to the page where you will be able to add groups to your container. To create groups click the Add button on the right-hand side.

Next complete the fields for the group you wish to create. As most trips are usually available to a grade/year group we recommend creating groups based on Year Group.

Title: Title of the Group (Parents/Students will see this)
Description: Description of the Group (Parents/Students will see this)
Available to / Pre-requisite / Un-available to: When selected, a pop-up box will appear on the screen which determines who can sign up for the School Trip.
Use the drop-down box and search bar to search for the Year/Grade or Group that will be able to sign up (1). Once the correct Year/Grade or Group has been found, click the Add button (2).When you have made your selections click the green Continue tab (3)

Gender: Gender of the group
Lead Staff Member: Which Staff Member will be the organiser of the group
Activity: This will not be visible to the booker but can be used for reporting purposes. Choose which activity you would like. If the activity is not available, please contact help@schoolsbuddy.com and we can add these for you.
Default Location: Location of the School Trip - you can also use this for a meeting point e.g. School bus stop
Group code / Billing code: use these if your school has specific codes to use for reconciliation
Once completed click the green Save button to create your Group. Now the group has been created it will appear in the container Groups tab.
Step 4:
If want to add more block dates that don't apply at organisation level, you have the option to add container-specific block dates on the next tab, block dates (1).

Then add your dates using the green Add button (2). In this case, it is just using the organisation block dates which are listed for visibility.

Step 5:
Once all your groups are set up you can start adding events
Click on the Create Events button to schedule specific trips
Click on the Add New button on the right-hand side

Step 6:
Next add the specific details of the school trip.
Title: Add the appropriate title for your trip
Vital information: Any vital information regarding the trip. Please note that vital information and additional information are both visible to parents when making bookings
Additional information: Any further information regarding the trip
Booking Options: Select Individual for one day or Block for multiple day trips
Number of places: Set the maximum number of places if applicable
Create for groups: Select the group you wish to create the event for

Scroll down and continue filling in the details and when you are complete click the green Create Rule button.
Location: this can either be the location specified when creating the group or a location can be selected in the drop-down bar
Event type: Select School Trip from the drop down box
Cost Type: Select chargeable from the drop down box if applicable
Price per session: Add price per session. For multiple day trips you will need to divide the total fee by the number of days
Percentage to pay at time of booking/Deposit (%): Add the percentage expected to be paid at the time of booking. If less than 100%, the remainder will sit on the account balance to be paid in the future. If no upfront payment is required enter 0
Payment Method: select Default - Create Fees to charge to the parent wallet and allow online payments if using.

N.B. Manual bookings with event type "For display purposes only (Do not use if you have online payments)" no longer shows as a Payment Method.

Frequency: Select single day or multiple days
Event date: Enter the date of the trip (event)
Start Time: start time of trip/event, End Time: end time of trip/event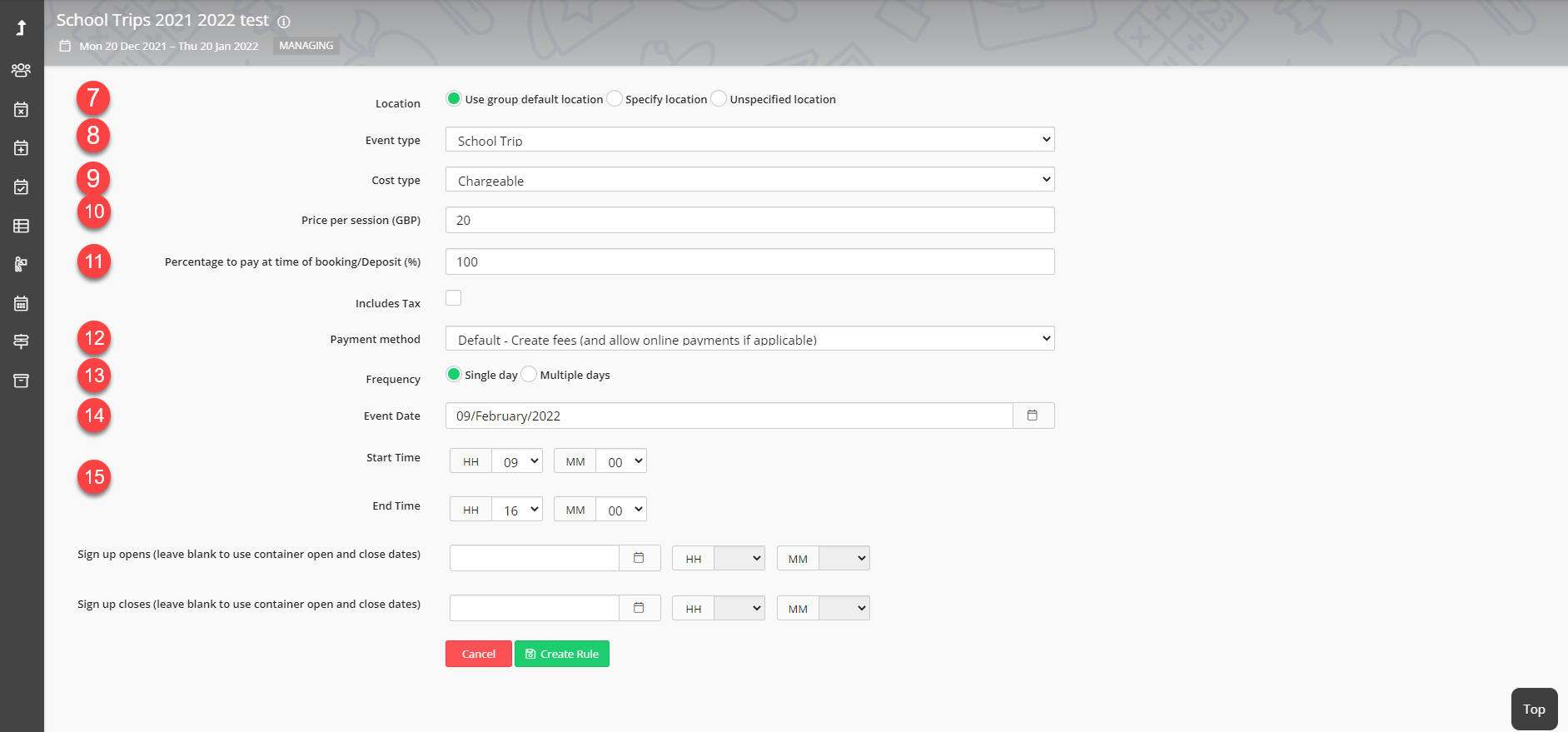 If you leave the Sign up Opens / Closes dates blank on the event rule they default to the dates set for the container and the event start date if it is before the container's close date.
Now the trip has been created you will be shown a preview prior to publishing. If you need to make any changes then click the green edit button on the right-hand side. If you need to create multiple similar events then you can also use the blue copy button on the right-hand side below the edit button.

Step 8:
When everything is complete it will be time to publish the events. Click on the Publish Events tab to be brought to the publishing screen.

You will see your event listed and this gives you a chance to double-check the details before publishing. You will need to check the tick box confirming that you understand that upon publishing that the Event will be visible to Parents as soon as the Sign-up period opens. You cannot click the Publish button without confirming your understanding.
Check the confirmation box then click the green Publish button on the lower left of the screen.
One final confirmation box will show and you will need to click the Publish button to proceed or the Cancel button to return to the previous screen.
When you click Publish the events will be generated. This may take a couple of minutes depending on how many events there are to be published.
Once the event has been published and it is within the opening sign update, parents will be able to book the trip. Staff can also manually book students onto the trip if required. Please see Manually booking students to events
Please note that if you change the location of a Group after events have been created, this will not change the location of those events. This must be completed as well but the location can be bulk changed for all future events at once.
Please read the Editing part of this article for more information about how to do this: Editing, Deleting or Cancelling an event