To make reconciliation with Paysafe clearer we have created a report to help you.
Within the Fees and Reports tab, simply choose the Finance Dashboard (123.1) report.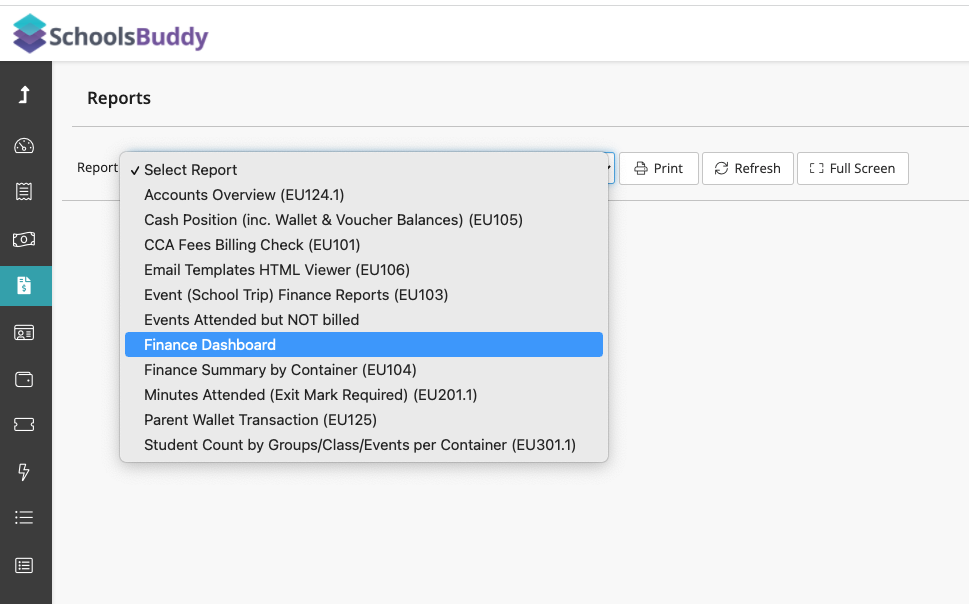 Select the Transactions page at the bottom.
The first step to reconciliation is to change the date range on the main dashboard to reflect a month of Paysafe transactions, example from 1st October to 31st October.
Your monthly total transaction will be displayed within Paysafe and should match the total on your SchoolsBuddy report.

If it does not match, the first thing to check is whether some transactions took place in the early hours of the morning on the first or last days of the date range, in which case they could be appearing on either the 31st August or 1st October. This would be the first thing to check and discount as a possibility.
If this does not solve any discrepancy, there is the Daily Reconciliation page which can be found at the bottom of your screen to help quickly identify any issues.

Once selected, this will show you a break down of the daily totals for the date range, each of which can be clicked into for detailed transactions per day. You will need to choose the month required and select Paysafe from the 'Method' dropdown.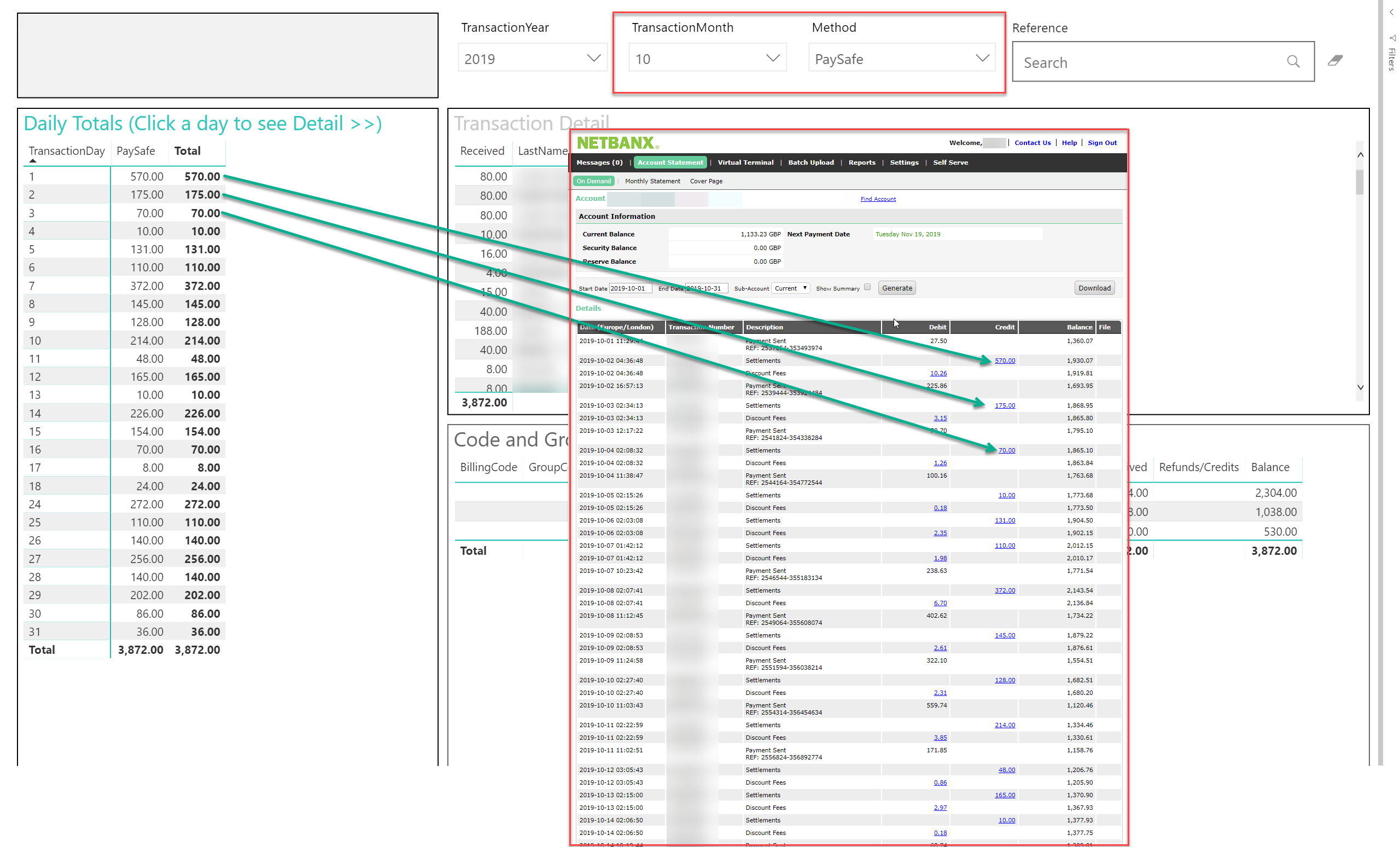 This list of daily totals should match your Paysafe monthly credits and can be quickly scanned to match. We suggest you either have your Paysafe totals showing on a second screen, or printed out to be able to scan and check easily. (The report in the screenshot above can be found in your Netbanx portal under 'Account Statement' - 'On-Demand'). In addition, you can download the monthly statements from the Netbanx portal under 'Account Statement' - 'Monthly Statement'.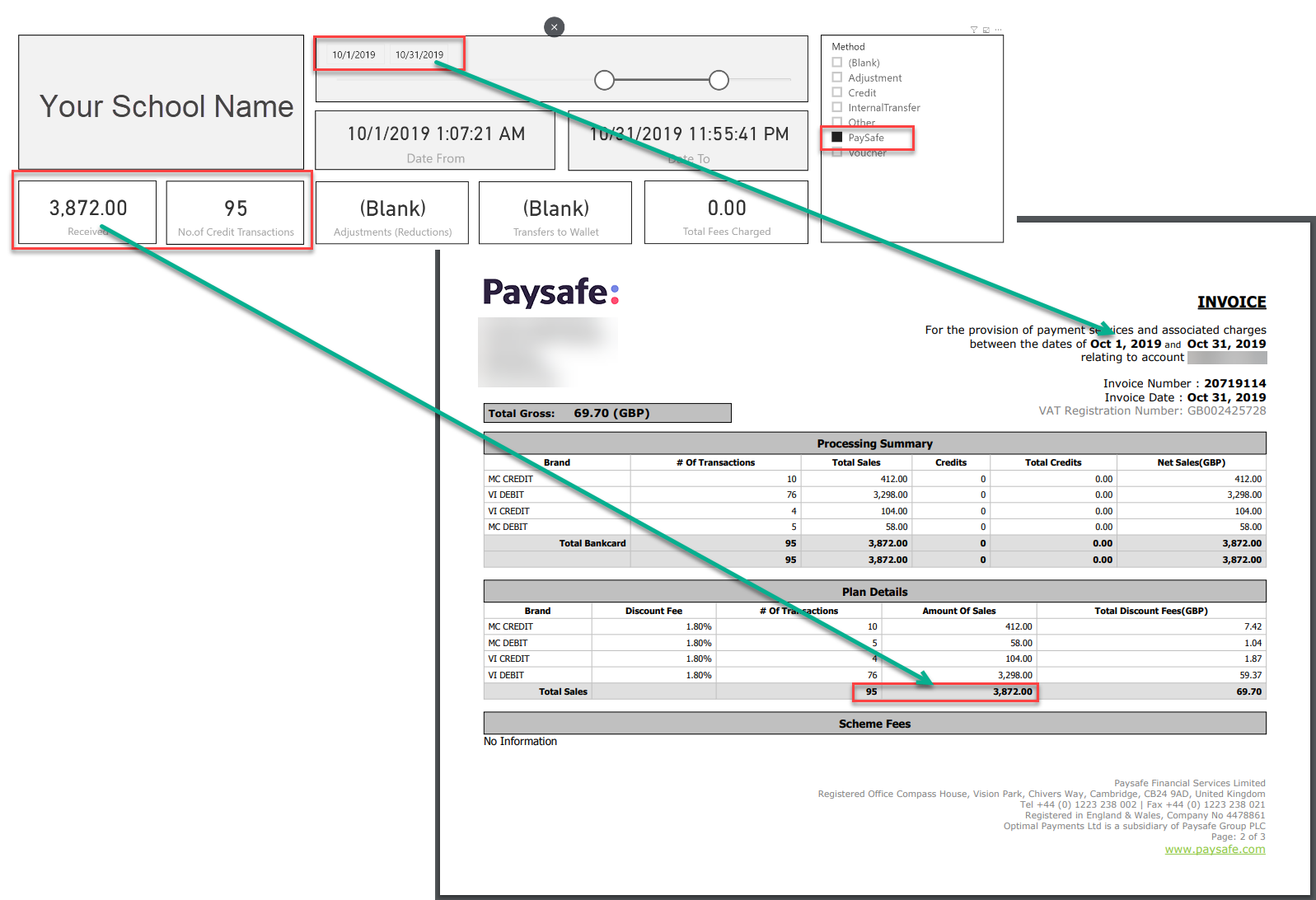 As above, if there are any daily discrepancies first check whether the transactions took place around midnight, which may mean the transaction will appear on the adjacent day. This will account for 99% of differences. On the rare occasion there is a discrepancy identified which cannot be explained please contact help@schoolsbuddy.com to be investigated.
Identifying payout totals and matching transactions
We also recognise that the payouts you receive are hard to match with the transactions you can identify. While this is out of our control, we can offer this guide to help you match transactions to payouts. We also recommend switching to a gross payout, preferably on a weekly basis which will make things clearer. A gross payout means you will receive the amounts that parents pay, matching with your SchoolsBuddy account, then commission fees are taken back separately via direct debit with an invoice to account for this.
VIEW OUR PAYSAFE PAYOUT MATCHING GUIDE