If your school has a pre-prepared menu for snacks and lunches, SchoolsBuddy can be utilised to create a Canteen Style menu to accommodate this, both with or without payments.
First, we need to set up an Instant Book & Pay Container.
Click on 'Activities & Clubs' (This may be labelled differently for your Club/School).
Click on 'Instant Book & Pay' (Please contact SchoolsBuddy if you would other bespoke label such as '

Lunches

')
Create the Container

Sign Up Title : give the container a title, e.g. 'Lunch Autumn term 2022'
Description : add in description
Allow booking cancellation / Block clashes
Maximum Bookable events per group : set to 999
Start date / end date : set as the dates you wish for parents to be able to select school lunches
Start time / end time : set as your school's lunchtimes
Responsibility for Confirmation : could be down to the choice of the school/club,'Parent Only' or 'Students or Parents' or 'Students Only', one must be selected
Sign up opens date and time will need to be before the first event.
Sign up closes dates and time will need to be before the last date of the 'Activities End Date'. This is just a default time as we are able to set up on the event 'Sign up' a week ahead of the date and 'Sign up closes' on the day on the event.
Leave the 'Select All' and 'Use Organisation Block Dates' box checked and it will be the decision of the school/club decision whether to 'Accept Voucher Payments'.
Add any Terms and conditions you require.
If required, you can add a booking data form here so that when a parent/student books for lunch, you can acquire further information, e.g. food allergies etc. If you wish for an additional form please contact SchoolsBuddy.
Next, we need to create the groups.
If you are not assigning year groups but individual groups of children we will need to create a custom group. In this example, it could be children that qualify for free school meals. Please see the Creating a Group help guide.
Once you have created any custom groups. You need to be on the Groups tab for the container to click the '+Add' button on the right.

Create the Groups

Title : give the group a title, e.g. 'Free School Meals'
Description : type in description if required
Available to / Prerequisite/ Unavailable to : select who the group will be available to
Gender : select the gender of the students who are eligible for the group
Choose the Lead Staff member
Select the Activity type (If you require a new activity, please contact SchoolsBuddy and we can add one for you)
Select the Default location. If you don't have a suitable location available, you can add a new location. Here is an article explaining how Creating Event Locations can be done.
Then, we need to create the events for the groups.
You will need to make two sets of events if you have lunches that are free of charge and other lunches that carry a charge. You need to go to Create Events tab and click on '+ Add New'.

Create the Events

Title: This will be the name of the snack or lunch option, e.g. Hot meal- Meat
Vital and Additional Information: Add anything that you think may be useful to the parent/student or leave blank.
Booking Options: Choose Individual
Number of places: Leave as 0 unless you have a limit on lunch places
Create for groups: Depending upon the event we are creating will determine which group to select. In this case, the Hot Meal- Meat is free of charge. So I have selected the free school meals group.
Location: Check the Use group default location
Event Type: Choose Wrap around care - This will allow you to see the dates when booking. If you do not require dates then you can choose fee-only event type. If you would like a new activity type, please contact SchoolsBuddy and we can set it up for you.
Cost Type: If there is no fee involved, jump to point 12. If there is a fee involved, change this to Chargeable and set the Price per session accordingly.
Percentage to pay at time of booking/Deposit (%): If you wish for parents/students to pay in full at time of booking, set this to 100. If you want them to pay later, set this to 0.
Includes Tax: Check this box if you wish to include tax. This will depend on your school/club.
Payment method:

If you are using the fees system within SchoolsBuddy, select 'Default'.
If the parents/students are paying by another method, select 'For display purposes only'
If you wish to hide or ignore the fees, select 'Hide/Ignore fees'

Frequency: Set to Multiple days and check the Event date is correct
Sign Up Opens and Closes Dates: Here, you have the option of giving each individual event it's own sign-up opens and closes date. Leave blank to use the container defaulted dates. In this example, it opens up 7 days before the date and shuts 4 hours before lunchtime, allowing parents to book on the morning if required. You can have these to suit your school protocol.
You may receive a warning message after pressing save; this is due to creating numerous events at the same time with the different options. This is fine and you should click the green 'Yes, create rule anyway' button.

The events can be 'copy' if you have a chargeable group that will need to pay for school lunches you will need to create a duplicate your free event with a charge associated.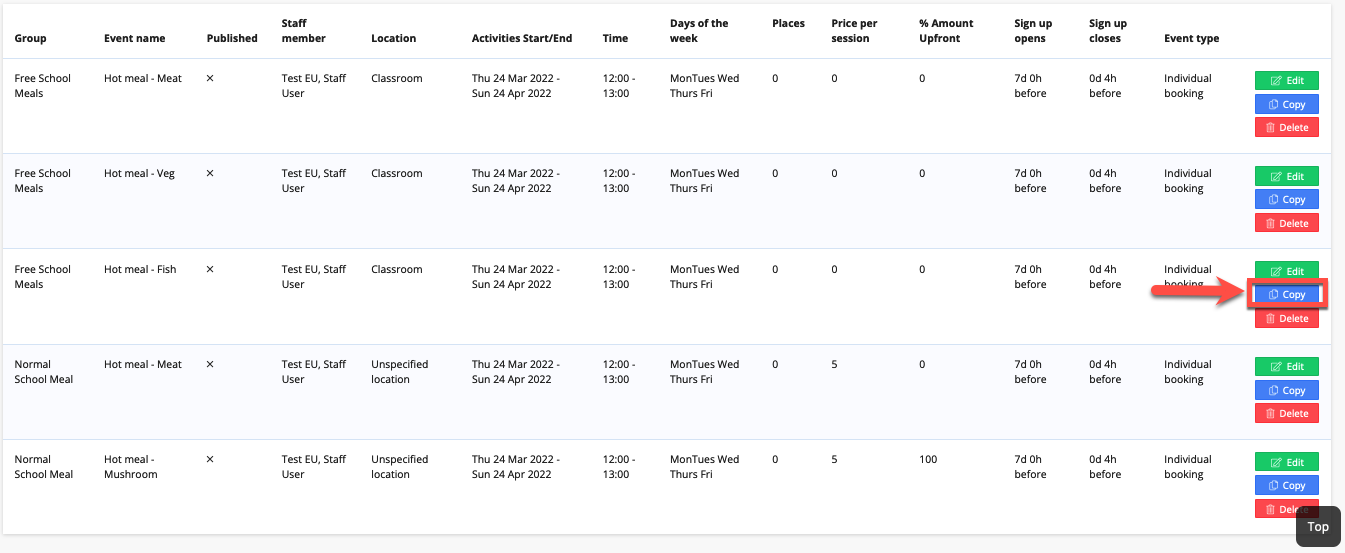 Lastly, after all events are created, we need to publish the events.
Click on 'Publish Events'
Select the events (the toggle boxes will turn green)
Toggle the box stated 'I confirm'
Click the green publish button to publish the events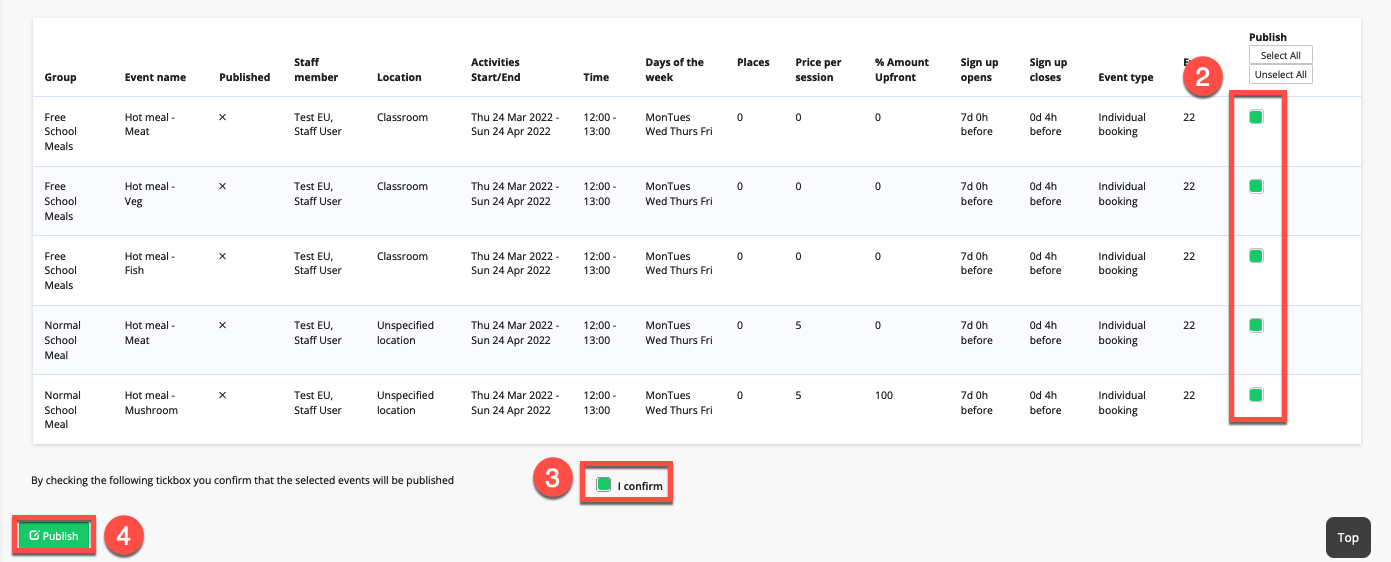 Once published, under View Events/Bookings you will see all the events published.


You are able to manually book for students as required. The events will produce a register that you can export to know numbers to cater to for each preference.
Parent View of the lunch bookings