This article describes the steps to prepare a batch of students with what you need to bill them. Once you have reviewed your batch of students to be billed, move on to the next article which describes how to manage invoices.
Please note - we recommend setting a deadline for parents to complete their billing forms in OpenApply at least a day before you start billing, so that the data can be synced to SchoolsBuddy overnight. Payer details can be changed here (swap between parents) but cannot be edited (updating address or corporate payer details for example). You can leave batches in pending status until you have chased remaining payer details if any are missing. If an invoice is sent to the wrong contact, or to somebody with the wrong contact details, you can resend the invoice later.
---
Billing Cycle
On your first use of the Tuition Fee Billing Module, you will need to set up a Billing Cycle. You can name this whatever you would like to organise your billings by, for example "Annual billing 2023", "Termly billing 2023" etc. It is a way to categorise your invoices, and you will be able to reference this later to see if you have billed all students you need to for this cycle.

1. Click Add Cycle
2. Enter the name of the Billing cycle, the appropriate date range, Academic year, and Academic Term. Click Add to finish.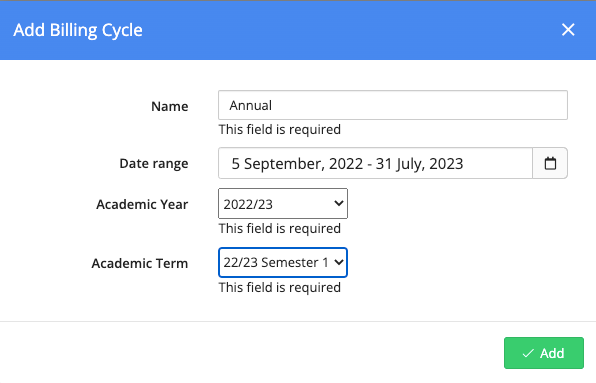 3. Now the Billing Cycle submenu will appear. Click on the first option, Add to Cycle.
4. Select whether you would like to bill parents or corporate payers first.
5. Click Save

Selecting students to bill with Data collected in OpenApply
Corporate and Family Payers
The next steps show how to bill families. If you choose to bill corporate payers, you will only see students that have corporate payer details entered in OpenApply.
6. Expand the filters section to view billing data you've collected in OpenApply, which you can use to filter the students you'd like to bill.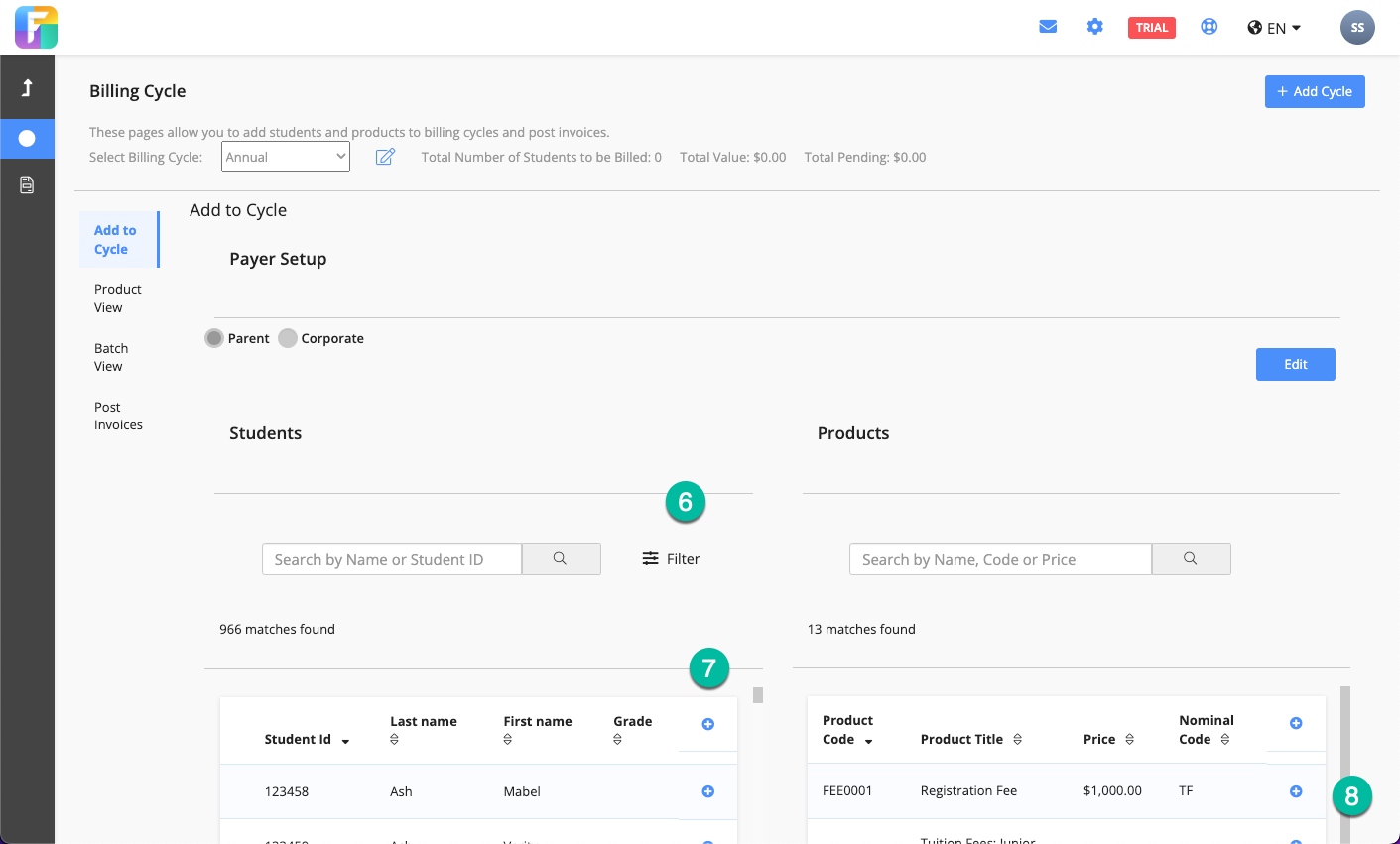 Filters
Please note, updates from OpenApply are synced overnight. You may notice some options show "Not specified" answers - remember that there are 5 test students assigned in every SchoolsBuddy site for you to get to know the system with, so there will often be 5 missing entries.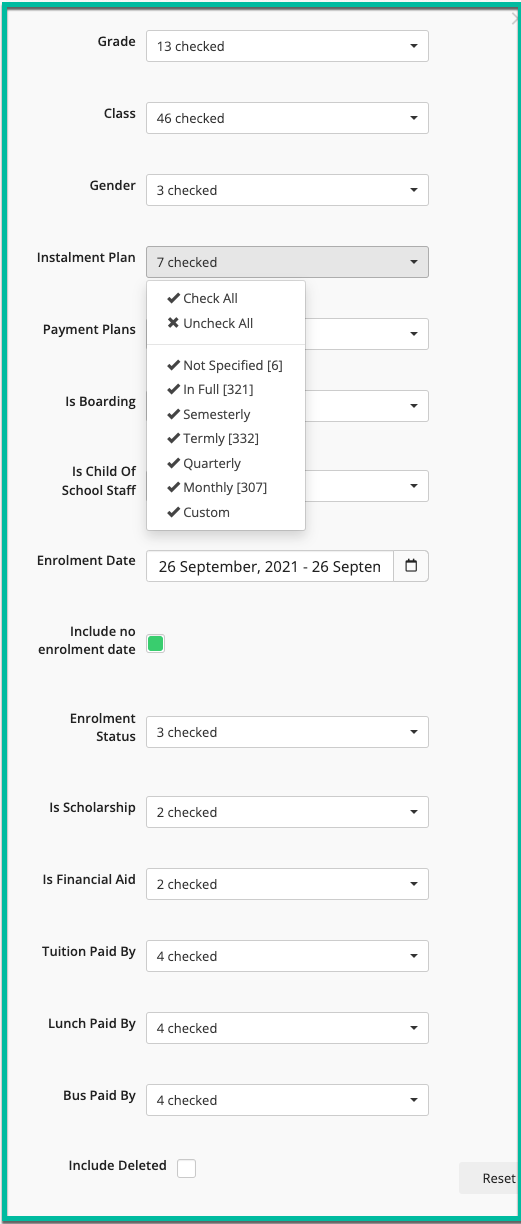 7. You can quickly see the amount of students filtered, and use the add all button, or select the + button next to a student to add them to the batch individually.
After you've selected the right students, you will see them appear below with a quick count so you can confirm you have the right amount. You can change the Payer if necessary; the Payer will default to the parent that is marked Parent Responsible in OpenApply - this is shown by an asterisk *
If no parent is marked parent responsible, the Payer will default to any parent (alphabetically).
Tip:
If you can't see the full payer name with asterisk, adjust your screen resolution using Ctrl or Cmd +/-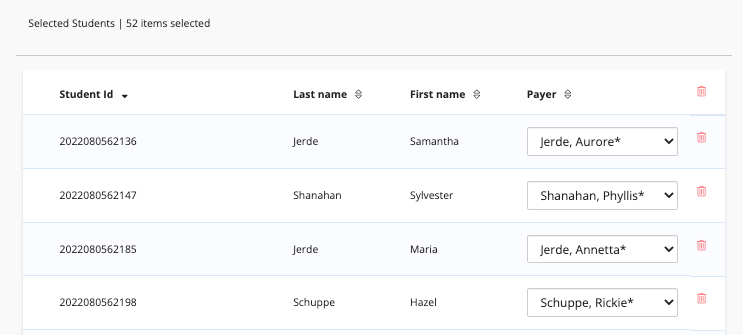 8. Select the product(s) that you would like to bill to this batch of students and you'll see the Product selected below the list, with a billing total.
9. Enter any reduction in the fee needed (for example, if you are billing students joining part way through the year, or staff children).
10. Click Apply Product(s) to students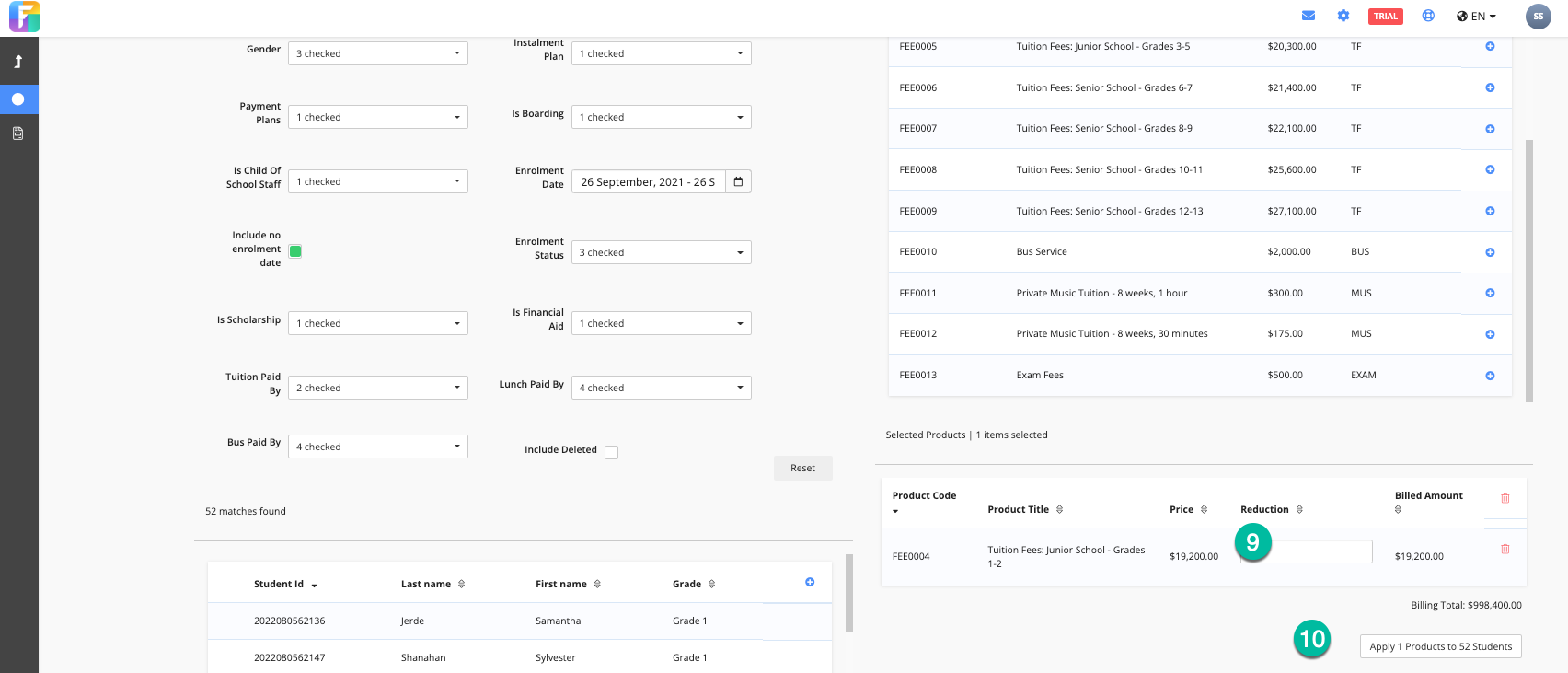 11. There is a notification to show that the batch has been saved. When you move to the next items in the submenu, Product View and Batch View you will be able to review the batch you have just saved.
Product View
The Product view is a summary dashboard, that shows how many students have been billed by product. Both family and corporate batches are counted. The Invoiced Total shows the real amounts invoiced including reductions including for batches that have not yet been invoiced (as shown, there is no Last Invoice Date yet).

Batch View
The Batch view is a summary dashboard showing all the batches created. Each batch is given a system generated Batch code and has a status:
Pending - Batch created

Processing Invoices - User has posted Invoices but they have not yet been sent

Invoiced - Invoices have been sent

Deleted - Can be deleted by selecting the Batch > Products and clicking 'Delete Batch'

Incomplete - Student does not have a selected Payer
1. Click on a batch to expand and see full details on the right side.
2. The Students list will open first. This includes the Student ID and VBAN if applicable. If you are missing some Payer information but want to bill the rest of the students, you can delete individual students from the batch here. You can also edit the student to choose which payer (family) to send the invoice to.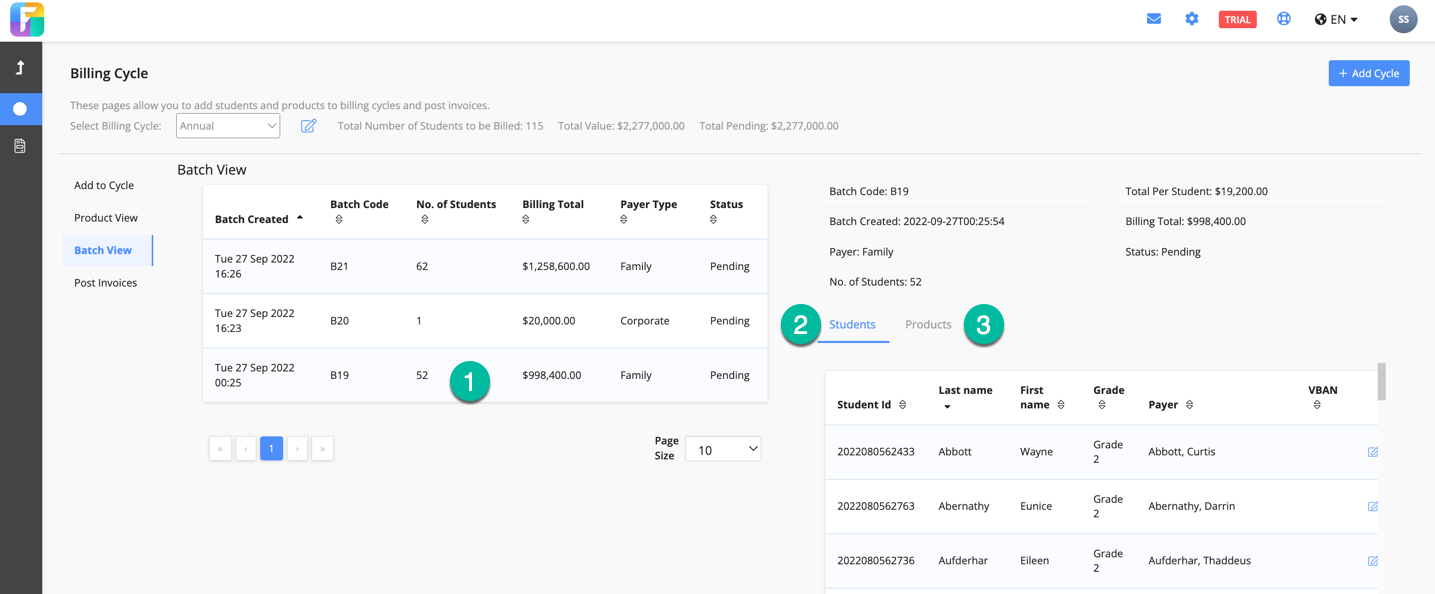 3. Toggle to the Product view to see which product the batch is for, whether any discounts have been entered and the total amount billed for the batch.
4. If you wish to, you can delete the whole batch here.

Post Invoices
The Post Invoices tab holds a final summary view of all the students in pending batches.
1. The number of invoices shown here is the total number of students in those pending batches. Any students in Incomplete batches will not be counted/ invoiced - return to the batch view to remove students with incomplete details from the Incomplete batch if you would like to continue invoicing the students that do have completed Payer details in that batch.
2. Enter the Invoice Due Date.
3. Enter a Reference for the Invoices if required.
4. Post the Invoices.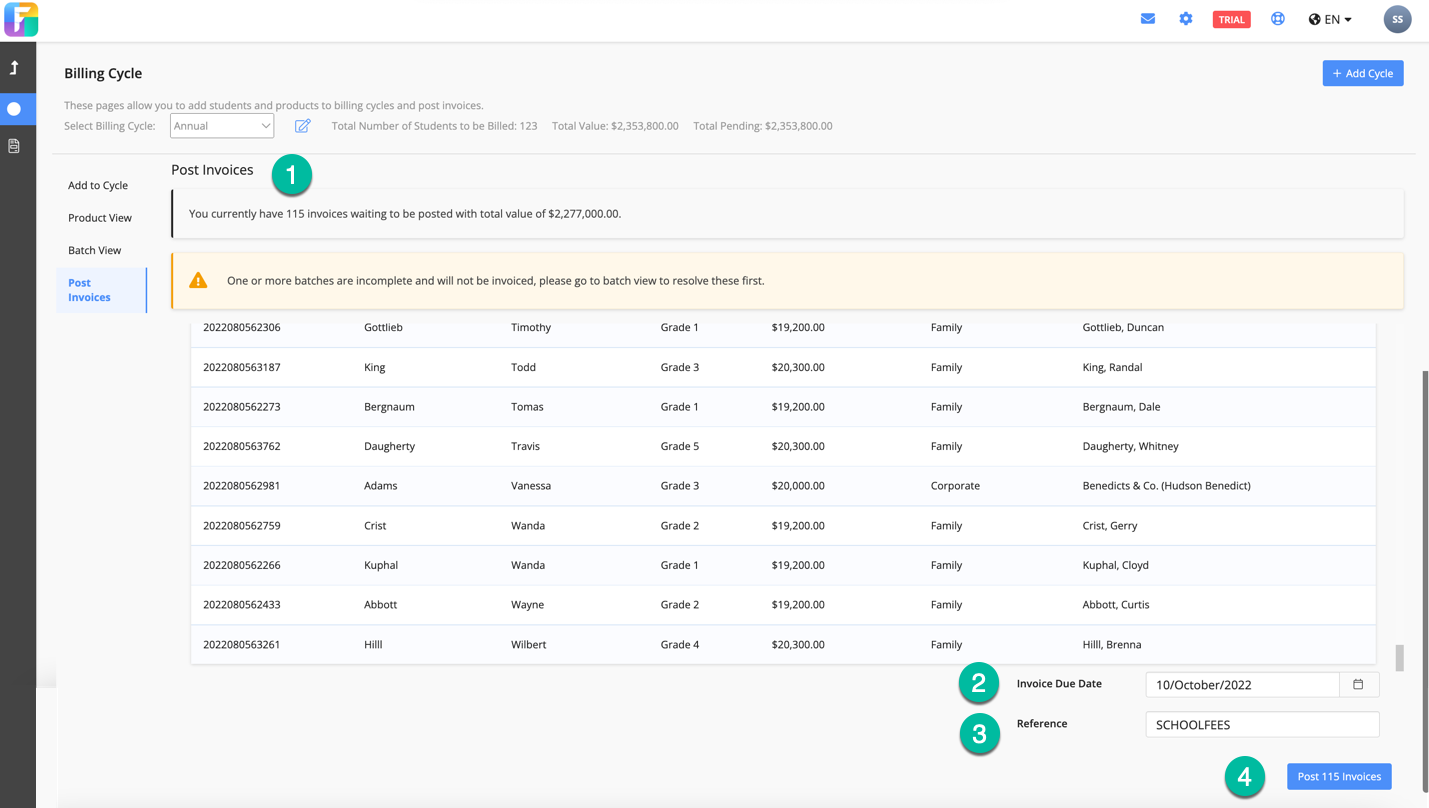 5. Click Confirm or Cancel on the final warning pop up message: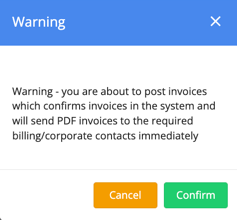 6. Return to the Batch view to see the status. This page will show Processing Invoices until all emails have been sent (if you are invoicing large numbers of students it could take a few minutes for emails to process. When sent the batch status will be Invoiced.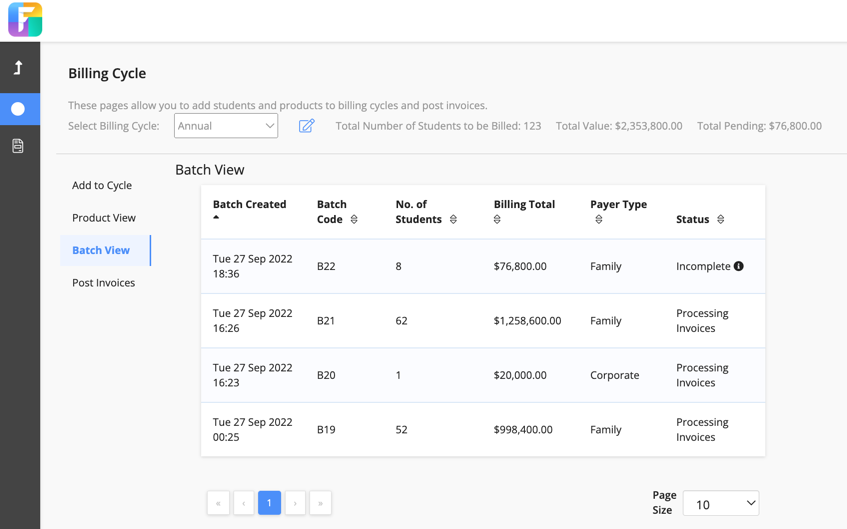 Go to the next article on Managing Invoices to see how to view Invoices sent, manage payments received, issuing credit notes and reissuing Invoices, receipts and credit notes.