Paying by Childcare Vouchers (parent view)
When a Parent makes a booking, if applicable they can pay by Childcare Voucher. To do this, the Parent would navigate to the booking, click to book, and on the payment options screen choose 'Pay xxx with Voucher'


A confirmation message will pop up which the Parent will need to click 'Continue' to proceed.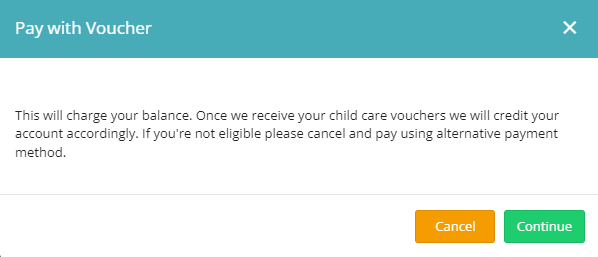 How the Childcare Voucher Balance works

If you have chosen to allow both debt and credit on a parent's childcare voucher balance (this is on by default * ), parents can opt to pay by childcare vouchers when booking wraparound care. If a parent books care before you have received their voucher this will make their balance show as a negative figure. Once the voucher has been received and has been credited to their account ** , this will balance their previous booking balance and the remaining voucher value will be visible as credit which they can use for future bookings.

* You can opt to switch off the ability to have debt on a voucher balance meaning the parent must submit their vouchers to the school and they must be input before they can begin to use the voucher against care bookings.

** Only staff members who have the 'Advanced Fee Admin' role within SchoolsBuddy will be able to administer Childcare Voucher balances.

Within the Fees tab one option is the Voucher Accounts Overview tab





Once selected this will show all parents and you can also search for an individual.
To input a voucher click the 'Credit' button.

Then simply enter the details and click
'Raise Credit'

Manual charges can also be added by following the same process.
In addition, you can
View
Transactions
for each parent.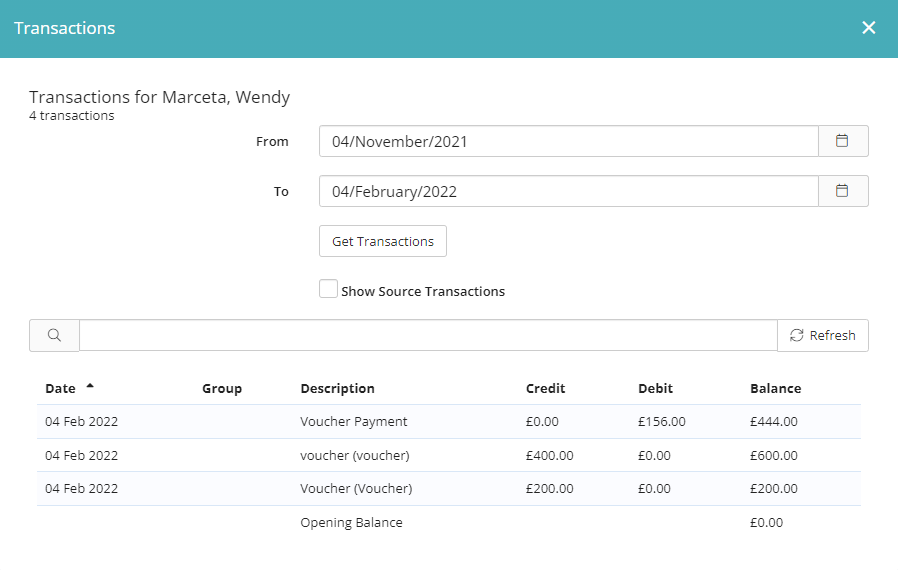 Restricting who can pay with Vouchers using Groups
You can restrict who can pay by Childcare Vouchers. Please view our guide to
restricting the use of childcare vouchers
for more information.