Reconciling payments taken through Bluesnap is quick and easy with SchoolsBuddy's comprehensive financial reports. Once you have started processing transactions, you can use Bluesnap's own portal to view and export reports, find a transaction, issue a refund, and more.
Haven't received as much as expected? If you have set up a refund reserve with Bluesnap an amount of your funds may be held back to process refunds with. Read more about Refund Reserves here.
Bluesnap Customer Portal
Your school will be given login details to: Bluesnap's customer portal
To download a transaction report from Bluesnap follow these steps. Please note that very recent transactions may not show in reports as data is delayed by approximately 3 hours.
Click on

Reports > Transaction Details (2) . If you are reconciling the amounts received from a particular payout you can also use Reports > Payout > Payout Details and select the relevant Payment ID. 3.

Select an option from

Time Periods or enter a Custom time period (4).5.

Click

Go

to see transactions on the screen or

Download

to export

. You can Customize the view of transactions on screen to see the most relevant information to you. The Invoice ID is the reference to be used to match payments with items in SchoolsBuddy. Merchant transaction ID will start with a "B" for Booking (instant payment from a signup) or "P" for "Payment" (paid later from parent's outstanding fees). First Name, Last Name and Shopper Email are entered manually by parents during the transaction, so these may not always match the email of the parent payer stored in SchoolsBuddy (for example, a parent could have used an alternative email address to receive a Bluesnap receipt).
SchoolsBuddy Finance Reports
SchoolsBuddy's Finance Dashboard report can be found under Fees > Reports. If you cannot see the Fees module, ask your super administrator to give you permission to view it.
The report contains a lot of information so we have designed it to be controlled by the Dashboard tab. Advisory notes about how to use the Dashboard are shown in the first Quick Buttons tab. On the Dashboard tab you can set the filters that will be applied to the other detailed tabs of the report.
1. Navigate to Fees > Reports and select the Finance Dashboard report
2. Select the Dashboard tab
3. The report initially defaults to data for the last 30 days. Select another time period if you need data from further back. In this example, we select Last 3 months, so that we can enter specific dates for August.
4. Use the slider to set the specific transaction dates e.g. 1st August 2022 to 31st August 2022.
5. Limit the payment method to Bluesnap.
6. The Fees Received total is a quick way to compare the total of your SchoolsBuddy reports and Bluesnap reports. The No. of transactions may not match Bluesnap exactly, because one transaction in Bluesnap could be multiple items in SchoolsBuddy e.g. a parent pays for two events for their child, or the same event for two siblings.
7. To compare reports in more detail we recommend using the Daily Reconciliation tab. You can also use the Transactions tab if you are looking for full details, but for a quick reconciliation of daily totals the Daily Reconciliation report suits most needs.
8. You may need to re-select the transaction month and year on this tab.
9. The Daily Totals gives a quick reference for the total amount taken on each date of the month to use in comparison with Bluesnap's report. If a daily total doesn't match up, check the individual transactions for the day to find out if a payment made late at night and posted the day after (some payments may take a little time to settle).
10. The reference shown is Bluesnap's Invoice ID.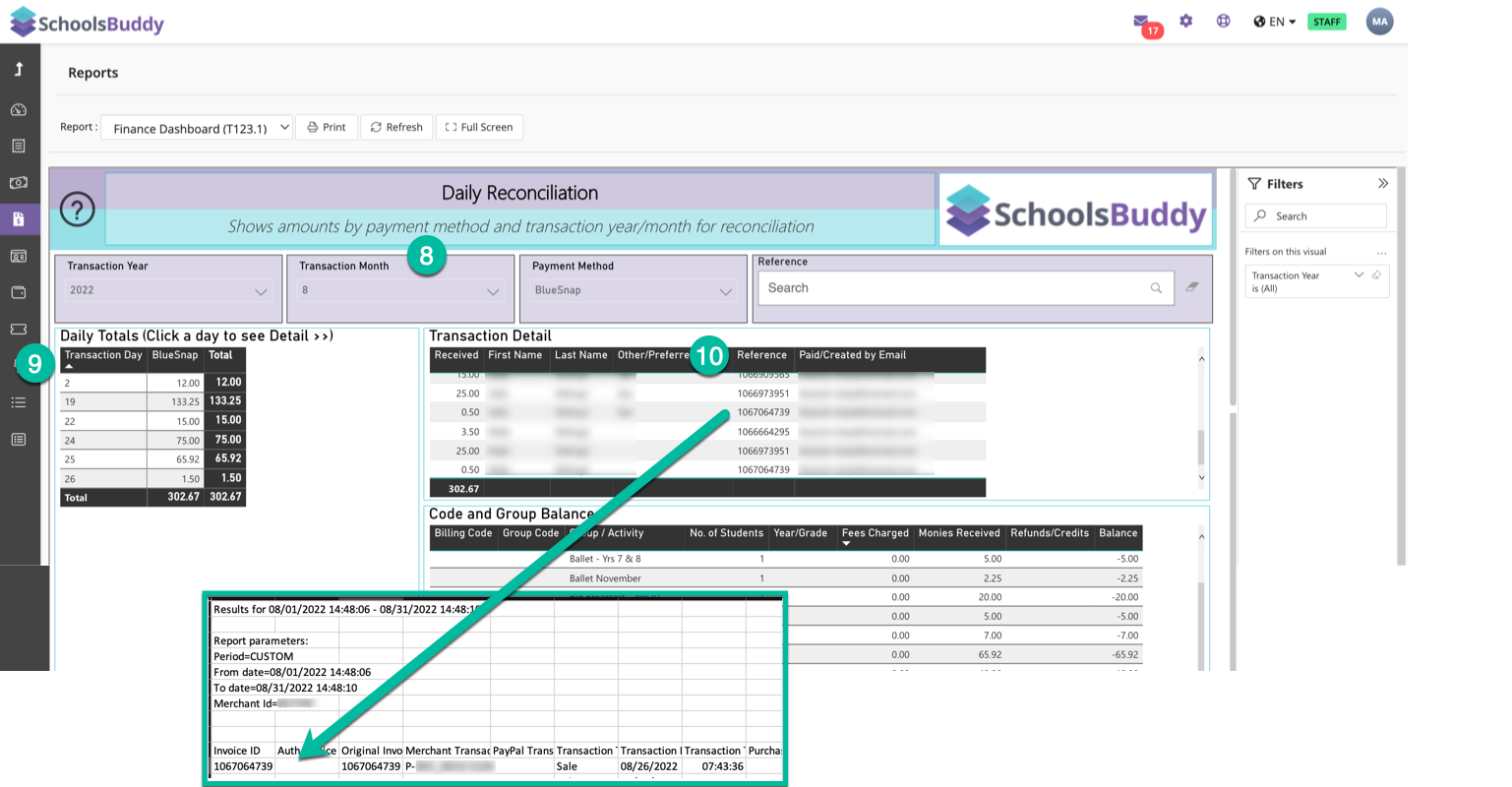 11. When you select a date on the Daily Totals, the transaction details and group codes are updated to show just those for that day. In this example, there was one transaction in Bluesnap on 24th August, which related to 3 SchoolsBuddy items for siblings in the group "School Hoodies".