This article is the first step in our series of how to manage Overseas Trips using deposit payments, preference allocation and quick charges. For a full overview see the first article in the series here. You can adapt this method to take an up front payment and unlock any other activity as you would like.
Making a booking will add them to a group which we will call "Deposit Paid". Set up the container like this:
This Description is shown to parents on the Bookings pages. You can use it to explain that they will be able to make further bookings, once they have paid their deposit.
The Maximum Bookable Events doesn't really need to be limited - a parent should be allowed to book for the same number of times that they have children if they are paying for 1 deposit per child.
Set the Activities Start & End Dates to the latest date that you would like all deposits to be paid by. After this date, nobody will be able to pay a deposit.
Set the Sign Up Opens & Closes Dates to the period of time when parents are allowed to book. In this case, they can book from now, until last day they can pay the deposit.
Be careful to deselect Use Organisation Block Dates if the last day to pay the deposit is scheduled in holidays which have been blocked out already.
Use this space to add any terms and conditions, which the parent will need to agree to before they are able to book, or link to further details on your school website.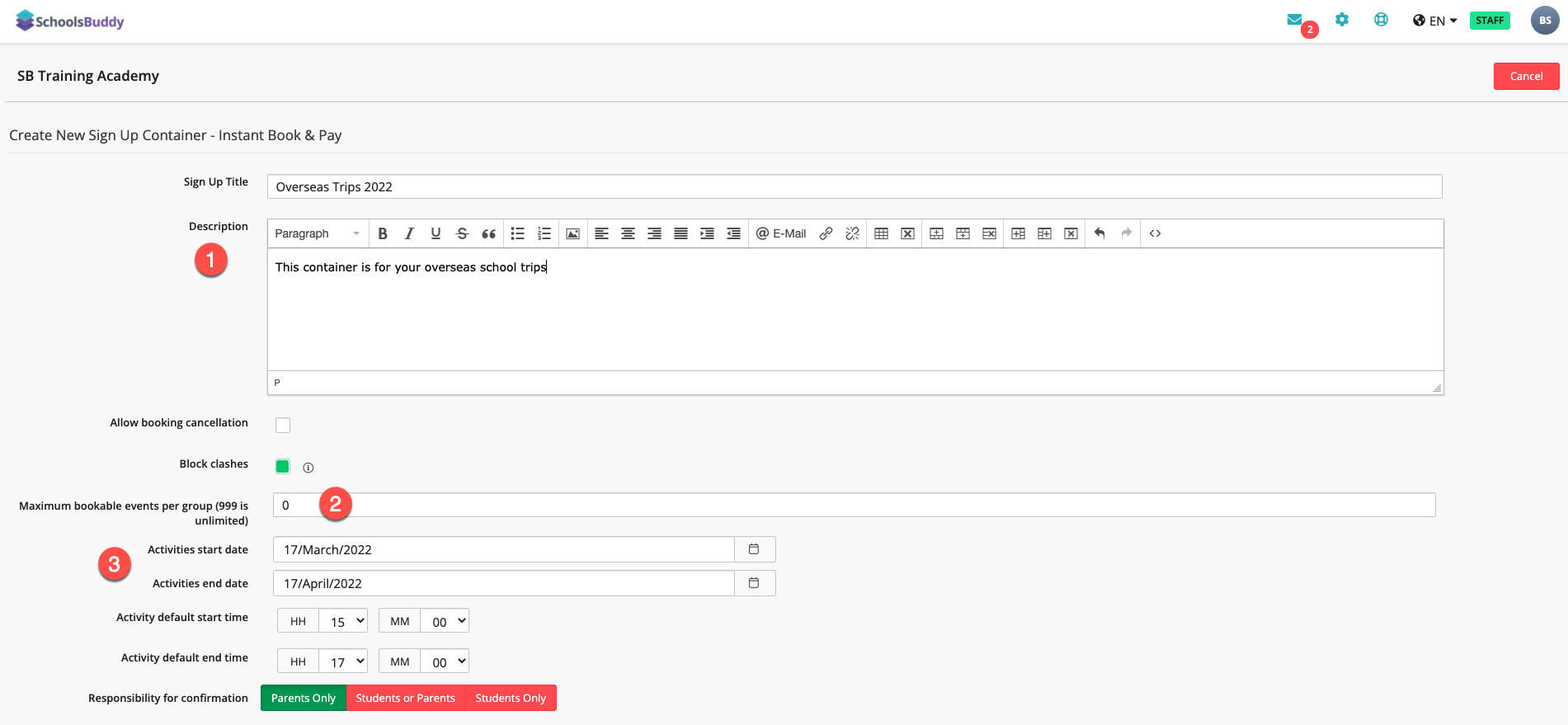 Create one group: this will include all students that have paid deposits after the parents have made the booking.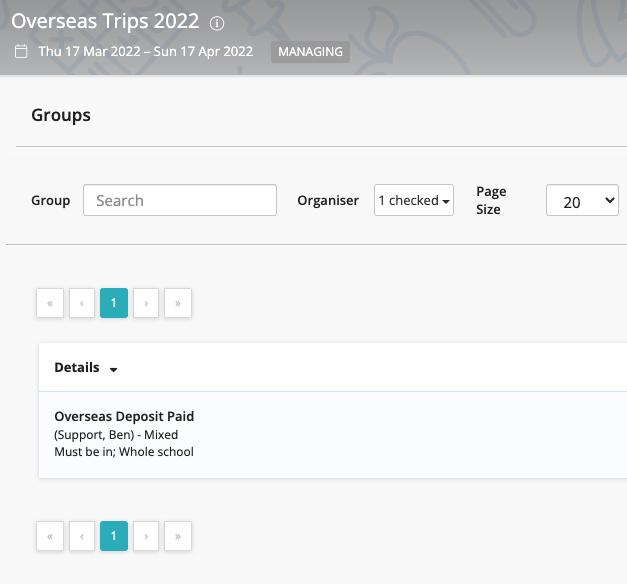 Create one, individual event.
Title this the "Deposit Payment".
Set the place limit to match how many places you have available on the trips overall.
Ensure the relevant group is selected for the event to be available to.
Set the Price as needed.
Set the Event Date and Time as the last day that deposit payments will be taken.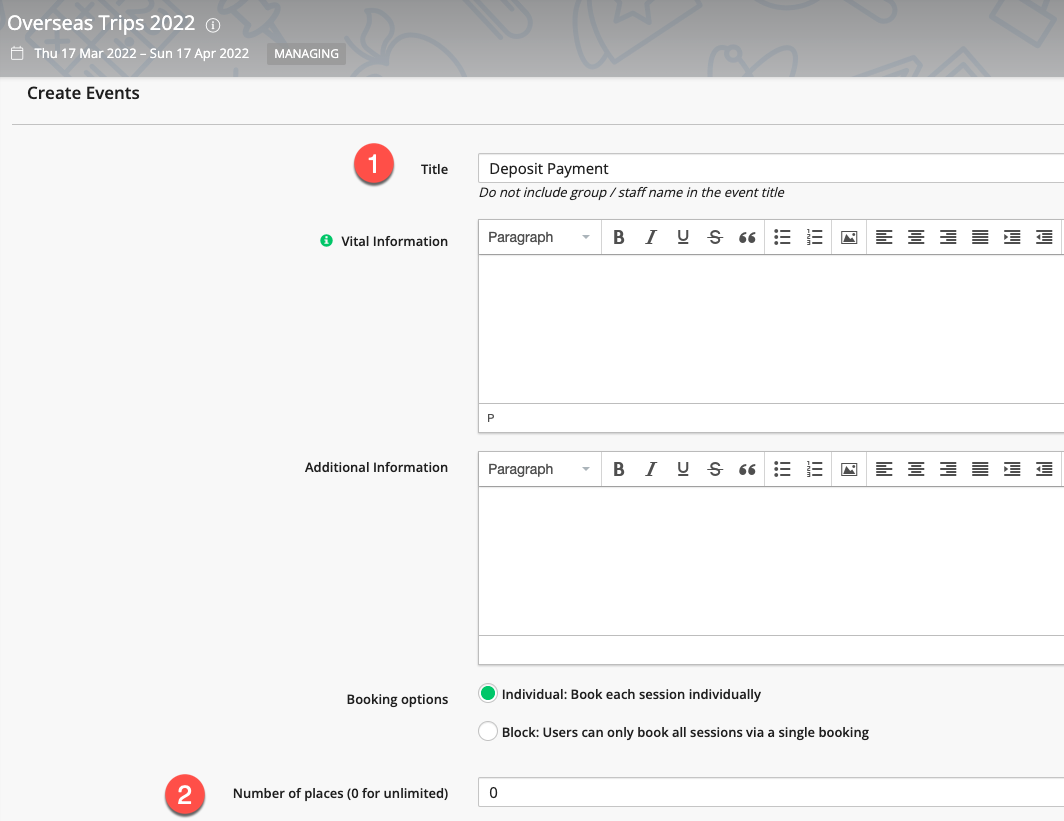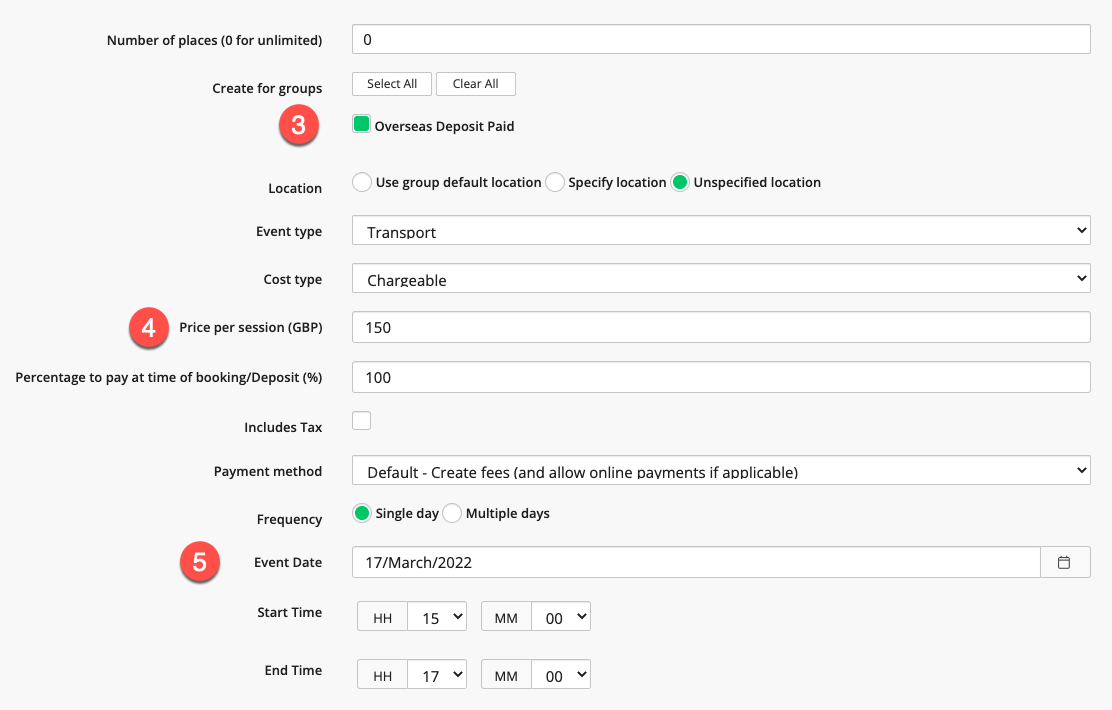 When parents begin to book and pay their deposit, they will automatically be added to the group roster you created.
This group can be used to send communications, add charges using Quick Charge or as a pre-requisite filter for booking or selecting another another activity. See the next article in this series for more information.