Switcher Accounts
You can now link yourself to a test student using your staff email which creates a simple switcher account allowing you to easily switch between a staff and parent view. Please see below for how to set this up.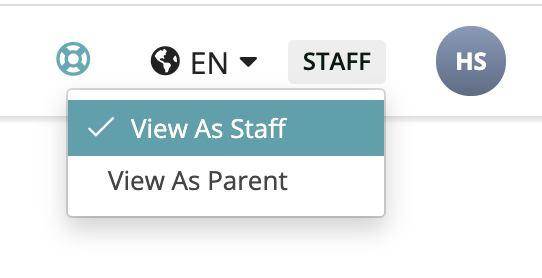 Video
Test Student Accounts
As standard when we create your SB account we add in up to 5 test students.

These test students will allow you to create a test parent account and link to at least 1 or 2 of these test students.

These can be edited and added to different school years/grades.
Go to the Reception tab
Click Users
Enter the word 'test' into the Search field
Click Search
Click on a test record from the search results

Change School Year/Grade
Click Save
Setting up a Test Parent Account
It is vitally important to set up at least one test parent account for your school. Using the system as a staff member or admin user is one thing but you do need to know what the parent will see.
The Parent screens and emails they receive will differ from staff so it is important for the school to understand these processes and to check the wording used within the email templates is suitable.
To set up a Test Parent Account, login to your SchoolsBuddy account and complete the following steps:
Go to the Reception tab and then click on Users tab (see above screenshot)
Search for the test students by typing test into the search box and press the search button (see above screenshot)
Click on the top test student (see above screenshot).
On the right hand side it will show the 'linked' tab and there will be no entries in this list.

Press the +Add button and complete the three fields - First Name, Last Name & Email Address, by adding the same email address as your staff account.

Log out and back in again for the switcher account to be created. You will then notice a green user type in the top right hand corner. Click on this to switch to your parent view.
IMPORTANT
Parents should not be added to the system this way if SchoolsBuddy is integrated with your school ManageBac system as ManageBac require a staff and parent account.