This document is going to outline how you can achieve discounts for staff children attending wraparound care events. e.g. Breakfast clubs.
Step 1: Click on Actvities & Clubs (This may be labelled slightly differently for your organisation). Select the Instant book container or there may already be a tab labelled Wrap Around Care


Step 2: Select the container you require. This should have already been created and select Manage. If the container has not been created this will need to be created first.
Click here to Create a wraparound container

Step 3: If you have not already created a custom group of staff children this will need to be done first.
Click here to read how to Create a custom group
Select the tab Groups in the left hand menu and then click Add

Give the group a title, make sure you add Staff Children so you can easily identify the group, e.g. Breakfast Buddies - Staff Children. Select Available to and select the custom group you have created e.g. Breakfast Buddies - Staff Children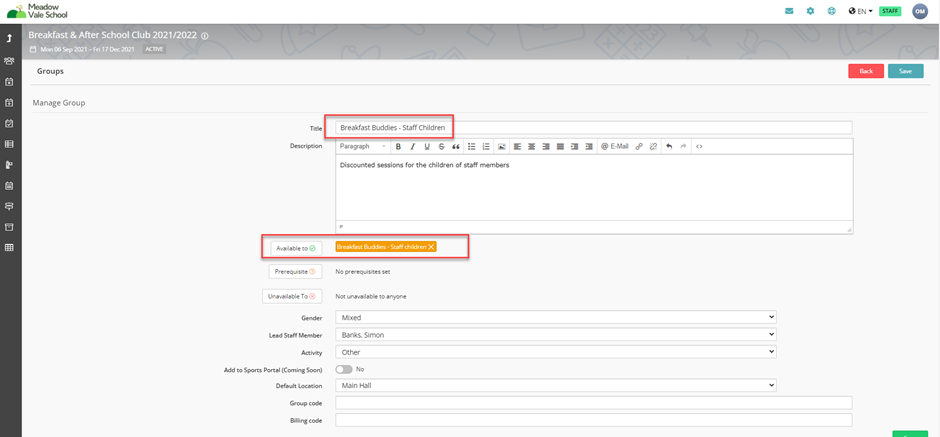 Step 4:
Select Create events
For Create for groups, select the group created earlier - Staff Children

For the cost type, choose Free or Chargeable. If you select Chargeable, add the price that staff are required to pay. Choose the payment method of Default - Create fees (and allow online payments if applicable) or Hide/Ignore Fees

Check activity dates and the Days of the Week are correct. These have been pulled from the container into the event
Check the start and end times and change if required
Step 5:
Select Publish Events
Check the boxes for the events you wish to publish, or you can click on Select All
Check the I confirm box
After a few moments, these events will now be available for staff to book.