To enable staff, pupils, and parents to set-up a SchoolsBuddy account they must be sent an activation email. To send an activation email as a staff member you must have admin access to your School's SchoolsBuddy (please request this at help@schoolsbuddy.com if you require admin rights).
To filter the recipients of the activation email, click here.

Email addresses are brought into SchoolsBuddy either manually or via an MIS integration.

Manual Import: all email addresses are imported via a CSV file.
MIS integration: all email addresses that are entered within your MIS will be brought across into SchoolsBuddy (updates take place overnight therefore, any changes will be made the following day)
Click on your 'User profile' in the top-right, this will display a dropdown menu where you can select 'Admin'.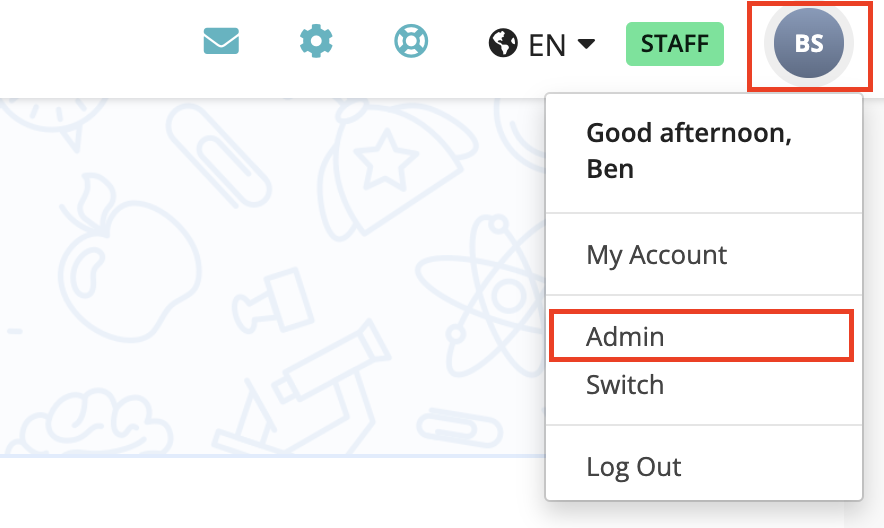 When selected, by default you will be on the 'Users' tab. From here, you will
see an overview of your SchoolsBuddy Users. There are four levels of users:
Dummy email (user's email has not been entered within an MIS and therefore dummy emails are created)
Welcome email - not sent (activation email has not been sent to the user)
Staff/pupil/parent that has never logged in (activation email has been sent but they have not yet created a SchoolsBuddy account)
Active staff/pupil/parent (activation email sent and the user has successfully created a SchoolsBuddy account)
Next, to each users status, the number of users currently at that status is displayed.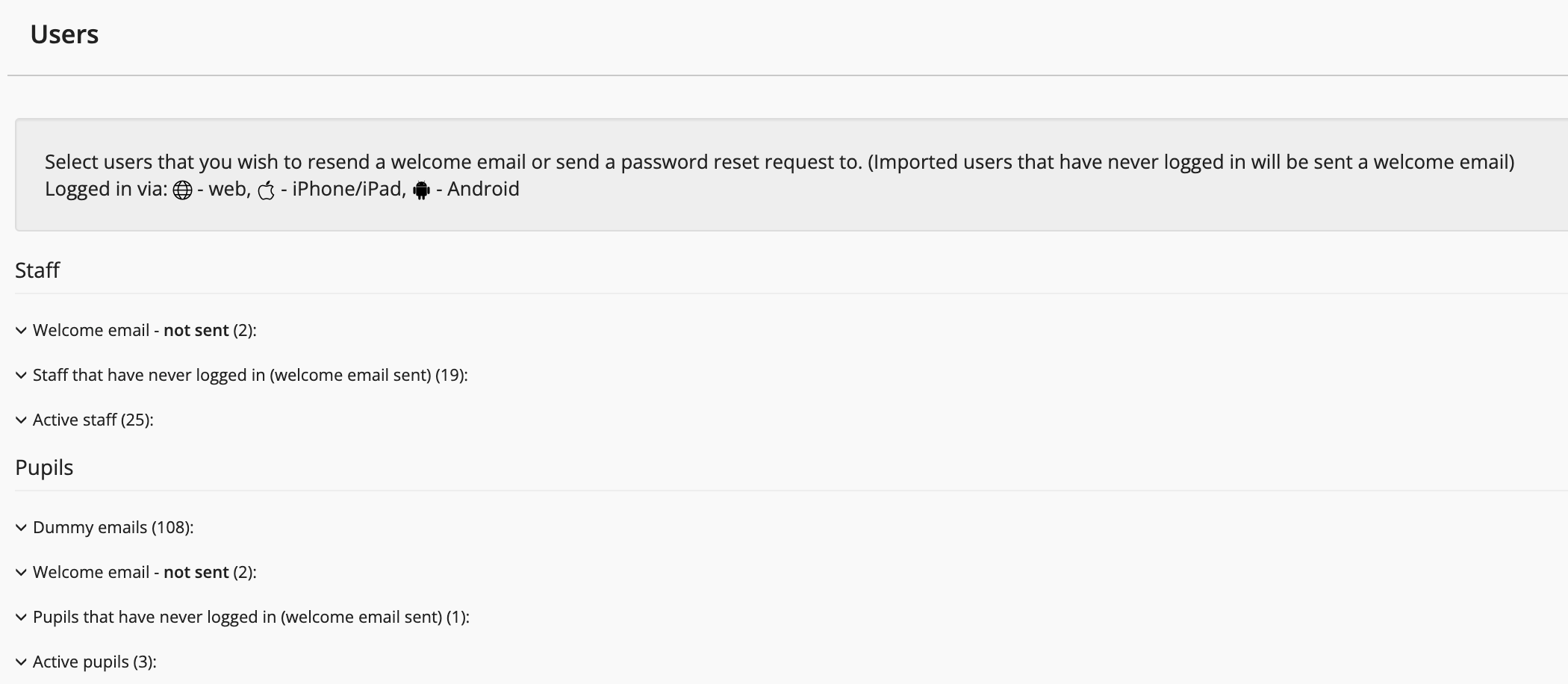 To send an activation email, select the 'Welcome email - not sent' for staff/pupil/parent depnding on who you wish to send an activation email to.
From here you have two options, either 'Toggle All' which will select every user within the 'Welcome email - not sent' section or you can select individual users by clicking the toggle box to the left of their name.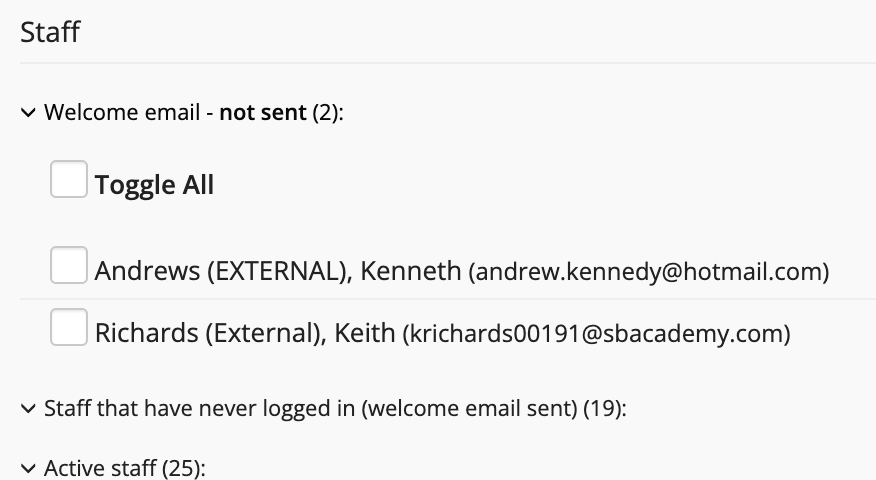 When the correct users have been selected, click the green 'Send' button at the top of the page.

The user will now be sent an activation email, this may take a few minutes to deliver to the recipient. An example of the standard activation email that is sent to a parent is shown in the image below.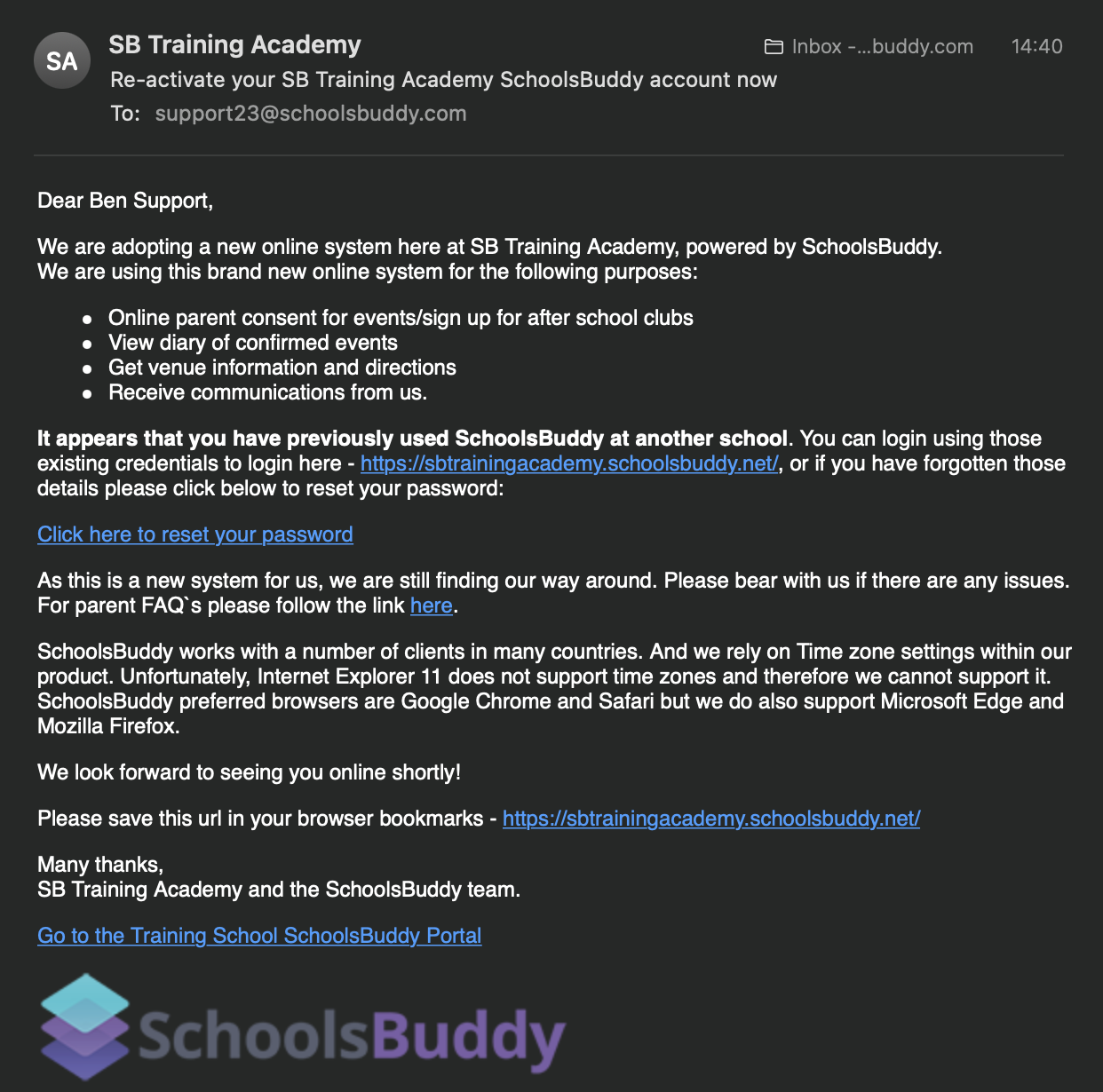 Activation emails expire after 21 days.

Activation emails are fully customisable, if you wish to make changes to your School's activation email please email help@schoolsbuddy.com

Password reset emails can also be sent from this page to active users who need to change their password.